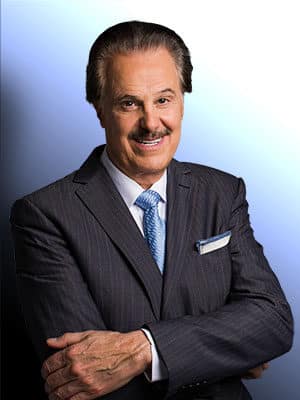 Michael D. Evans (June 30, 1947- ) is an author, award-winning journalist, commentator and the head of several prominent international non-profit organizations in the U.S. and the Netherlands.
Evans has written 37 books and has provided analysis and commentary on Middle East affairs for a variety of media. He has appeared on many network television and radio shows including Good Morning, America, Cross Fire, Nightline, The Good Morning Show (Great Britain), and appears frequently on the Fox Network, CNN World News, NBC, ABC and CBS. His articles have been published in The Wall Street Journal, USA Today, The Washington Times, The Jerusalem Post and others. He serves as the Executive Director of The Corrie ten Boom Fellowship, as well as Chairman of the Board the Corrie ten Boom Foundation in Ha'arlem, Holland, which operates the ten Boom Holocaust Museum. He also founded The Jerusalem Prayer Team with a reunified Jerusalem's second mayor, Ehud Olmert. It is a direct outreach of the Corrie ten Boom Fellowship. He founded Churches United with Israel, Inc., the Middle East Media Group, the Evans Institute of Middle East Studies, The Jerusalem World News and TimeWorthy Books.
Evans is a Christian Zionist who with Prime Minister Menachem Begin was one of the founders of the present Christian Zionist Movement.
Evans is a member of the National Press Club in Washington, D.C. For more than three decades, he has covered strategic events worldwide, such as the Middle East Peace Conference in Madrid and the 43rd General Assembly of the United Nations' specially convened session in Geneva. He most recently covered the International UN Conference on Afghanistan in The Hague, Netherlands, and the Durban Review Conference in Geneva, Switzerland.
Evans arranged an exclusive interview on Fox News Network with Iran's President Mahmoud Ahmadinejad during the 65th U.N. General Assembly in New York City in September 2010.
He also appeared on MSNBC with Tucker Carlson to discuss Iran's aggression toward Israel and the West.
As an award-winning producer, Dr. Evans has produced 18 documentaries in Israel. His most famous, Let My People Go, spotlighted Natan Sharansky, who was at the time in a gulag in Russia. Dr. Evans asked President Ronald Reagan to seek Mr. Sharansky's release and the release of some 400 Jewish prisoners from President Mikhail Gorbachev. Dr. Evans also worked with a Dutch government official to encourage them to open the doors of the Dutch Embassy in Moscow to the Jews of Russia.
As one of the world's leading experts on Israel, Dr. Evans has spoken to more than one million people each year for the past decade and trained more than one hundred thousand leaders in his leadership institutes held worldwide. One of his speeches became an official document in the Congressional Record of the 97th Congress, second session. He was a keynote speaker at the inaugural Jerusalem World Summit in Jerusalem, joining such notables as former Prime Minister Benjamin Netanyahu, and Vice Prime Minister Ehud Olmert.
In addition to his work as a commentator, author and documentarian, Mike Evans is a widely sought-after speaker, having spoken over 4,000 times from the Kremlin Palace in Moscow to the World Summit on Terror in Jerusalem and the Knesset. He has spoken at countless Middle East Summits, prophecy summits and church conferences, where his broad perspectives on the Scriptures, prophecy, the Middle East and Christian faith are widely valued and deeply cherished. He has spoken at more than 3,000 churches worldwide.
Mike Evans has been invited to the White House several times and was also invited to the State funeral of Prime Minister Yitzhak Rabin. As one who frequents the Middle East, Mike Evans has met with hundreds of Israeli government officials over the years and he works to connect with local leaders, prime ministers and ambassadors alike.
One of Dr. Evans more recent addresses was to 3,000 attendees and a worldwide television audience at the Restoring Courage events hosted by Glenn Beck in both Caeserea and Jerusalem, Israel during August 2011.
Dr. Evans has founded dozens of pro-Israel enterprises. Among them are the Evans Institute for Middle East Studies, the Jerusalem Prayer Team, the Corrie ten Boom Foundation, the Friends of Zion Heritage Center, Churches United with Israel, Lovers of Israel, the Evangelical Israel Friendship Council, and the Evangelical Israel Prayer Breakfast.
More than 1,000 organizations and 300 of America's top Christian leaders have lent their support to the Jerusalem Prayer Team. Included are Rev. Joel Osteen, Dr. Jack Hayford, Mrs. Anne Graham-Lotz, Dr. Tim LaHaye, Dr. John C. Maxwell, and Dr. Jack Graham.
For the Corrie ten Boom Foundation, Dr. Evans purchased and restored the home of Corrie ten Boom in Holland, and has served as Chairman of the Board for over 25 years. The home is open as a Holocaust Museum.
Dr. Evans has received the Ambassador Award from the State of Israel. He was the only evangelical present at the White House signing of the Israeli/PLO Peace Accord, and was invited to the State funeral of Prime Minister Yitzhak Rabin.
Mike Evans began the Jerusalem Prayer Team in 2002 to unite people in intercessory prayer for Israel and to develop a platform from which to speak out to world leaders at UN conferences, peace summits, etc., on behalf of Israel.
From that platform Evans has met with dozens of heads of state, including Barzani from Kurdistan, President Cristiani of El Salvador, the president of Philippines, President Musevani of Uganda, as well as many foreign ministers, ambassadors, prime ministers and kings. He has worked closely with Israel's prime ministers for three decades. As an advisor to Prime Minister Menachem Begin, he recommended Benjamin Netanyahu for his first government post. His recommendation followed a meeting with the future prime minister after his brother, Jonathan, had been shot in the back while leading the raid on Entebbe in Uganda. Benjamin Netanyahu is now serving his third term as prime minister of Israel.
The Prayer Team also raises funds to meet humanitarian needs of the Jewish people in Israel providing coats, blankets and home repairs for those in need. The ministry has a website that includes articles about the people of Israel, the problems being faced by her leaders and other pertinent topics.
Members are also invited to post their prayers for Israel and the Jewish people on "prayer walls" that are actually web pages with hundreds of prayers uploaded by people all over the world. The prayer walls are open to all—not just members of the prayer team.
It receives no funding from the State of Israel and its official statement says it "believes that God loves Arabs in the Bible as much as the Jews."Press Release, January 2009.
Dr. Evans' wife, Carolyn, is the chairwoman and founder of Christian Woman of the Year Association. Ruth Graham, Elizabeth Dole, Mother Teresa, and other distinguished women are among the recipients who have been honored during the past 15 years.
Mike and Carolyn Evans have four children, Michelle, Shira, Rachel and Michael, and nine grandchildren.
You can locate Mike online at the following places: Facebook | LinkedIn | Sourcewatch | Amazon | Wikipedia